Jun
20
Mon
2022
THE 4TH WORKSHOP ON INTERNET OF THINGS SECURITY AND PRIVACY (WISP)

@ Dublin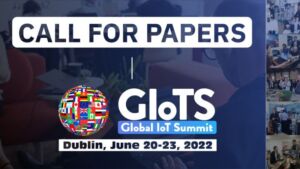 The 4th Workshop on Internet of Things Security and Privacy (WISP) (in conjunction with Global IoT Summit 2022 and the IoT Week 2022
The enforcement of security and privacy notions are widely considered as the main barriers for the design and development of IoT-enabled scenarios. With the massive deployment of wireless communication technologies and the integration of IA techniques, IoT devices are becoming more autonomous and pervasive in our surrounding environment.
On top, the already increasing number and heterogeneity of IoT devices is further increasing needs on a harmonized security and privacy layer.
This aspect will be reinforced with the integration of 5G technologies to realize a data-driven society. In this context, current digital and physical infrastructures will be the target of potential attackers, in order to get access to the information provided by such devices. This trend toward hyperconnectivity also means an increase of security and privacy risks, since IoT systems will often operate on behalf of their owners by disclosing potentially sensitive data.. These concerns must be tackled by joint efforts involving manufacturers, regulatory bodies, policy makers and end users to increase trust in the future digital society. For that reason, there is a need to develop joint strategies addressing the identification and mitigation of security and privacy risks to promote the deployment of IoT systems on a broad scale.
IMPORTANT DATES:
Deadline for paper submission: 2 May 2022
Date for notification: 30 May 2022
Camera Ready Submissions: 15 June 2022
TOPICS OF INTEREST:
We invite submissions on a wide range of research topics, spanning both theoretical and systems research, including results from industry and academic/industrial collaborations, related but not restricted to the following topics:
Security and privacy challenges of interoperable and usable IoT
Lightweight IoT security protocols and architectures
Privacy enhancing and anonymization techniques in IoT
Trust and identity management in IoT
Privacy data protection in Smart Cities applications
Secure discovery and authentication in IoT
IoT security lifecycle and Data Governance models
Security and privacy framework for IoT platforms
Case studies of new or existing IoT security technologies
Novel architectures, protocols, and applications for security and interoperability
Testbeds, and experimental results in IoT domains
Blockchain-based identity management and access control systems
Smart contracts for enhancing trust and security in IoT
Security and privacy aspects on the integration of LPWAN in IoT systems
Incentive mechanisms for enhancing security and privacy
Cognitive Systems for IoT platforms
Formal models to represent IoT systems, attacks and vulnerabilities
Automated IoT security testing
Security certification and standardization activities
SUBMISSION INSTRUCTIONS:
All papers should be submitted via EDAS https://edas.info/N28331
Full instructions on how to submit papers are provided on the Workshop
CO-CHAIRS:
Dr Antonio Skarmeta, Universidad de Murcia, Spain, skarmeta@um.es
Dr. Konstantinos Loupos, Inlecom Innovation, Greece, konstantinos.loupos@inlecomsystems.com
This workshop is supported by the following EC projects:
ERATOSTHENES
CyberSec4Europe
ELECTRON
SDN-microSENSE
ARCADIAN-IoT
Jun
23
Thu
2022
IoT Week 2022

@ Dublin
Jun 23 @ 9:30 am – 4:30 pm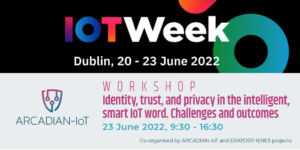 Identity, trust, and privacy in the intelligent, smart IoT world. Challenges and outcomes
The Internet and the recent connectivity leap are shaping every aspect of our lives, becoming more intelligent and connected. As IoT evolves, it changes how we interact with the internet and it with us. However, the enormous penetration of IoT into our day-to-day life has created a similarly large attack surface that includes high security and privacy risks. The IoT ecosystem now integrates a broad set of technologies leading profound transformation across a variety of sectors. IoT, alongside AI, Blockchain, is pushing the boundaries of existing identity, trust and security aspects and brings the need for a new vision and way forward that will shape Europe's digital future while support recent efforts on the Cybersecurity Act, along with GDPR and the NIS directive, conforming the three main pillars of the EU perspective on cybersecurity. This workshop will showcase how Europe's Research and Innovation community is addressing the issues of identity, trust, security, and privacy for IoT devices and network systems. The way we address these aspects will impact Europe's collective resilience against cyber threats so that citizens and businesses can fully benefit from trustworthy and reliable services and digital tools. The workshop is co-organised by ARCADIAN-IoT and ERATOSTHENES projects and is expected to host around 12 EC research projects.
The agenda will be added soon.
Aug
1
Mon
2022
IEEE COINS: IEEE INTERNATIONAL CONFERENCE ON OMNI-LAYER INTELLIGENT SYSTEMS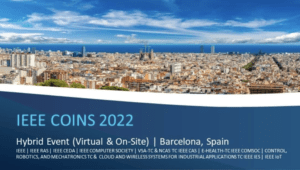 IEEE COINS brings together experts in Digital Transformation (from AI and IoT to Cloud, Blockchain, Cybersecurity, and Robotics) from around the globe. IEEE COINS includes a multi-disciplinary program from technical research papers, to panels, workshops, and tutorials on the latest technology developments and innovations addressing all important aspects of the IoT & AI ecosystem.
IEEE COINS includes a multi-disciplinary program from technical research papers, to panels, workshops, and tutorials on the latest technology developments and innovations. IEEE COINS will address all important aspects of the IoT ecosystem. IEEE COINS solicits papers and proposals accompanying submissions for presentations in the Vertical and Topical Tracks.
Topical Area Tracks
Internet of Things: From Device, to Edge, and Cloud
Sensors and Sensing Systems
Circuits and Systems for Artificial Intelligence, and Internet of Things
Communications, Connectivity, and Networking
Big Data, Data Engineering, and Data Analytics
Artificial Intelligence, Machine Learning, and Cognitive Computing
Distributed Ledger Technologies and Blockchain
Design Automation in AI & IoT Era: From Chips to Systems
Hardware/Cyber Security and Privacy
Intelligent Robots and Systems
Applications, Processes, and Services
Vertical Tracks
1. Smart City
Industry 4.0
e-Health and Wearable IoT
Agriculture
Mobility
Energy
Smart Transportation
Special Tracks
Critical System Design
European Projects on Intelligent Systems
Emerging Technologies on intelligent systems
Cyber-physical system
Work in Progress
PhD Forum
Panels
Industrial Talks Workshops/Tutorials