The ARCADIAN-IoT concept relies on a novel approach to manage, in an integrated way, identity, trust, privacy, security and recovery. The ARCADIAN-IoT framework includes vertical planes devoted to identity, trust and recovery management, which are supported by horizontal planes managing privacy of data, security of components and decentralized storage through blockchain technologies, as illustrated in the figure below.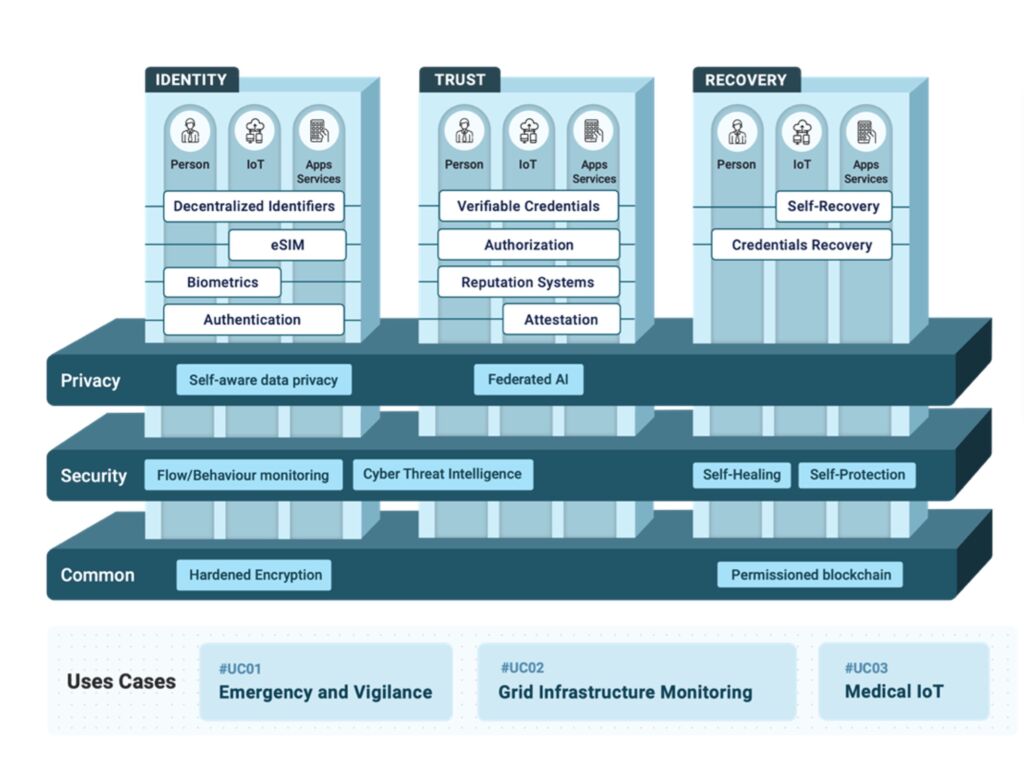 The ARCADIAN-IoT framework is evaluated in three realistic use cases:
Emergency and vigilance using drones and IoT. This use case has been selected given the relevance of IoT in digital services for emergency and vigilance in the business model of LOAD, but with trust, security and privacy aspects requiring robust solutions. ARCADIAN-IoT will address such aspects and enhance the data privacy compliance (e.g. GDPR) of the main operational platform of LOAD comprising drones with IoT devices for emergency and vigilance scenarios.
Secured early monitoring of grid infrastructures. This use case has been selected given the relevance of IoT in Industrial Control Systems for public infrastructures and factories. ARCADIAN-IoT will innovate the rapid deployment, secured & efficient solution for early monitoring for grid main circuits of industrial and public (e.g. smart cities) infrastructures.
Medical IoT. This use case has been selected because of the emerging trend to rely on IoT solutions for tele-medicine purposes. The providers of these devices need to be empowered with trustworthy and secure solutions.