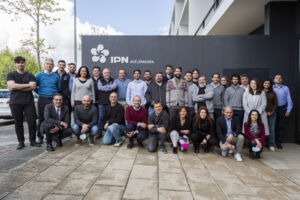 After one year of project work, we were finally able to organize a project meeting that was held in person. The 3rd Consortium of the ARCADIAN-IoT project took place on the 12 and 13 of April 2022, hosted by Instituto Pedro Nunes, the project coordinator, in Coimbra, Portugal. 
Despite the constraints imposed due to the COVID-19 pandemic, the meeting brought together most of the consortium members by giving them the opportunity to make constructive discussions about both technical and non-technical subjects. Attending the meeting were 30 participants from 10 project partners on site in Coimbra and two partners via videoconference.  
The main purpose of the meeting was to present the results achieved so far and produce a solid plan for the implementation of the ARCADIAN-IoT framework for an innovative, advanced, solid framework for trust, security and privacy management for IoT systems. 
Each Work Package leader presented the work done so far and the next steps. These topics triggered a fruitful conversation among the partners during the two days of the meeting. Overall, the event was very productive, as the partners discussed various subjects related to the scientific and technical advancements of the WPs and the ARCADIAN-IoT framework.